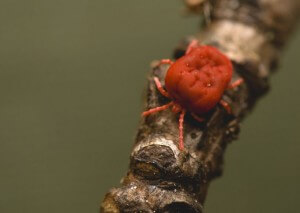 You have likely heard of dust mites before. These are actual parasites that can cause several health concerns for you and your family. If you have an infestation of these 8 legged creatures, then you are in need of Jacksonville mite extermination.
What are Mites?
Mites are a small arthropod that can cause many different health concerns. Since they are so small, it can be hard to detect them. In fact, you have to use a microscope to actually see these tiny insects. The lifecycle of the mite is complete in 4 stages: egg, larva, nymph, and adult. Generally, it takes 1 to 4 weeks for mites to complete their lifecycle.
There are thousands of mite species. Some of the most common are scabies, southern red mite, red mite, bird mite, clover mite dust mite. These insects are a form of Arachnida and can live in beds, hair, plants, and animals.
If you have an infestation then you are in need of mite extermination.
What Health Concerns Come From Mites?
These creatures can wreak havoc on your health by inflicting painful bites and causing severe skin irritations. Dust mites are the source of many different allergic reactions due to pieces of the mites in house dust being inhaled by humans. When you have an infestation, you can experience hay fever, asthma and eczema.
While sleeping, you inhale these insects and it can cause other reactions in the body. Some are known to burrow under skin and cause whelps.
If you think you have a problem then you are in need of mite control.
Bugman Pest Control is a Jacksonville Mite Extermination Company
Here at Bug-Man Pest Control, we are a Family Owned and Scientifically Operated business that has experience and knowledge to get rid of your infestation. We offer mite control as well as many other services.
With our proven techniques, we guarantee that our mite extermination services will rid your home of these pests.
Our Guarantee
It is our commitment to our customers that we will do what is necessary to rid their homes of pests. We have a high customer satisfaction rating and many people have used us from the start of our business and we have been in business for over 40 years. If you are in need of a Jacksonville mite exterminator, please feel free to contact us today.