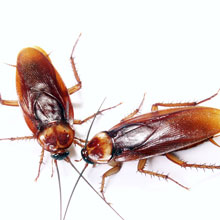 Bug-Man has been servicing clients since the 1950's. We consider that to be a major accomplishment because we still have some of those clients. That's a 50+ year relationship! It goes to show that we have developed a business model that works for Jacksonville FL pest control. If your honest, fair, likable, and the best at what you do, your customer's will never look any place else.
Scientifically Operated Business Model Makes For Successful Pest Control Service Jacksonville
We consider one of our greatest assets as a professional pest control service to be our treatment protocols. Our customized services are based on the most recent scientific research and tailored to the culture and environmental conditions of not only Jacksonville Florida, but surrounding areas. Because we are a family owned company, we are able to work with our customers on a more personal level than some of our competition, which are required to provide a "one size fits all" approach" by a corporate bureaucrat sitting behind a desk thousands of miles away.
It is our mission to serve the area with the best pest control service Orange Park FL has to offer. We believe that we have met that mark in a few different ways. The first being that most of our customers have been with us for more than 38 years! The second reason that we believe we provide the best pest control Jacksonville is that both the owner, which has over 50 years' experience in the industry, and his grandson, which holds a bachelor and master's degree in Entomology from the University of Florida, still service many of Bug-Man's clients on a regular basis. We have never heard of any other pest control company around providing that kind of value. But, that's just one way that we show our clients how much we care and want to keep their business.
With our expertise and competitive prices, our customers are always surprised at the service they receive. Many of them expect to pay much more than we ask! It is obvious to them that they are not just another job to us. We treat our newest customers the same way we treat the ones that have been with us for over 50 years.
The overall customer experience and the scientifically operated business model that we have adopted has allowed us to be successful in what we do. Give us a chance to earn your trust, and we guarantee that you will join in with the rest of our customers that tell us that we are the best Orange Park FL pest control company in the area.
Bug-Man is a Professional Pest Control Service
Not only are we a local company, but we are a group of highly professional individuals with a great deal of experience in this business. We put a lot of time and energy into the development of the pest control systems that we use.
Our professional pest control service was designed by Larry Wise, an entomologist that studied at the University of Florida. He has been riding in a Bug-Man truck since he was 5 years old. Talk about dedicating your life to the family business! With our highly developed methods based on the most recent University research and over 5 decades of experience, we are able to solve your pest problems fast.
More Than Just Bug-Man
While our company is called Bug-Man, we offer many services other than just killing and preventing bugs when it comes to Orange Park FL pest control. We handle rats, wildlife, bees, and provide a premium weed, fertilization, and fungus control lawn service to the home and business owners in and around Jacksonville. If there are pests in and around your home, don't take a chance and hire a company that might provide you with an inexperienced technician. Hire the experts here at Bug-Man.
Should you have need of our services, please do not hesitate to contact us today. Allow us to earn your trust and be your "go to" gurus for pest, lawn, and termite Jacksonville. We provide quarterly pest control, monthly lawn, and annual termite bonds. If you don't presently have any MAJOR pest issues, we'll quote your quarterly pest price right over the phone.
We'll provide you with the best service in Jacksonville at an affordable price. Let's chat about your pest control needs, and we'll develop a solution. There's a reason why out company's average customer retention rate is 38 years! Call us today at 904-289-7171.