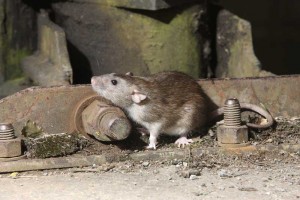 Jacksonville is plagued with many pests. But rats are often the most problematic. Rats are destructive pests that steal food and spread disease, and the longer a rat invasion takes place the worse the problem becomes. It's why it is so important to have a Jacksonville, FL rat exterminator on call, to help get rid of rats fast and keep them from coming back.
Bug-Man Pest Service, a Jacksonville pest control company, is thoroughly experienced in rat extermination and prevention. We provide comprehensive rodent control, with guaranteed success or we'll come back again and again. Learn more or get started with our Jacksonville rat exterminators by calling 904-289-7171.
More Than Traps - Why Everyone Needs a Rat Control Service
Rat extermination is more than traps. Most people think that rats live entirely inside the home and need to be eliminated by traps. But that's rarely the case. While anyone can pick up traps from the store in order to kill individual rodents, most of the time, it's not one rodent living on your property - it's many, many rodents that come in and out of your property for food, shelter, water, and more.
So in order to eliminate rats, you have to exterminate the ones on your property AND address all the entrances, openings, and weak spots that make it possible for rats to come on your property in the first place. And this is important, because rats:
Carry Disease - Rats carry as many as 15 diseases that can be spread to humans. They also carry bacteria on their skin that can lead to infections and illness if it is accidentally touched or spread to humans. There are even more diseases if the rat dies on your property.
Rats Steal Food - Rats most often invade in order to get access to human food and pet food. Because they carry disease, any food they have come into contact with needs to be thrown away.
Rats Are Noisy - Rats usually travel around through walls and make loud scratching noises. They are also night animals, which means that they may start their scratching noises right around the time you're going to sleep.
Rats Are Destructive - They chew at furniture, destroy walls, use books for their nests, and may even eat at electrical wires increasing the risk of a fire.
Rats are problematic - and potentially dangerous - pests. While there are many rat control companies in Jacksonville that can assist in rodent removal, the success of your treatment requires a team that takes its time on your property, has a variety of tools available, and can spot even the smallest possible entrance. That's what you get with Bug-Man Pest Service
Our Humane Rat Extermination in Jacksonville, FL
Rats are disease carrying pests. But they're still animals - a part of nature that plays a role in the environment. While it is often difficult to remove rats without extermination, our team takes a comprehensive and humane approach to rat control with the intention of eliminating rat invasions while reducing their suffering.
Rat removal begins with prevention:
Sealing off all possible entrance points.
Removing or storing any food, water, or other times that attract rats.
Sealing trash cans, so that fewer rats congregate outdoors.
Humane pest control also means eliminating rats with the least amount of suffering. It's why we don't use rat poisons here at Bug-Man Pest Service, and focus on traps, which help exterminate rats fast, effectively, and avoid unnecessary suffering.
Jacksonville Rat Control with Bug-Man Pest Service
Bug-Man Pest Service is a family owned pest control company that has operated in the Jacksonville, Orange Park, and Middleburg area for decades. We are also one of the few scientific-oriented rat control companies, with our treatments designed by trained entomologists along with a family team that has worked in pest control their entire lives.
We use trapping, baiting, and evicting to help make sure your home is rat free. We also guarantee our work. We are confident we can eliminate your rat problem right away, but if you still struggle with rats for any reason, we'll continue until you no longer have a rat problem in your home or business.
We also offer commercial rat control for restaurants, hotels, and any type of commercial property, and we are able to provide no obligation quotes. Please contact us at any time to schedule service, or to learn more about our rodent control options.