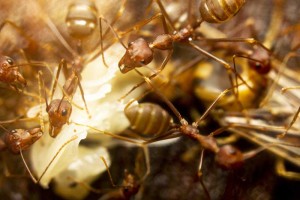 Fire ants are a major problem for people that live in our community. These are not a typical ant problem. Fire ants can cause painful, dangerous bites and are aggressive - often attacking in group. It is best to eliminate fire ants the moment you see them.
Bug-Man Pest Service provides one time and seasonal pest control, including fire ant control. Our experience as a family owned, local ant control company for over 50 years means that we know fire ants better than anyone else. Get rid of fire ants in Jacksonville and the surrounding areas by contacting Bug-Man Pest Service today at 904-289-7171.
Why Are Fire Ants an Urgent Problem?
All ants can present challenges. Even the smallest sugar ants invade homes in such large numbers that they frequently ruin food and cause distress to family members.
But fire ants are even more problematic. These ants have several qualities that make them a near-instant emergency whenever you see them:
Fire ants are one of the few genuinely aggressive ants, not afraid to attack humans when they feel threatened. They are known to attack in large numbers, especially if near a nest.
Fire ants sting. They have a venom filled stinger that they use to attack anything they feel is a threat, and their stinger is capable of piercing human skin.
Fire ant colonies are often massive. Their nests can ruin a lawn, and the number of ants living in the colony can number above 250,000 very quickly.
Fire ants can survive floods (though typically not a major concern in Jacksonville). They huddle together in massive, 100,000 fire ant mounts and float along the flood. If they see a threat, they will bite in the thousands.
Fire ants can also cause allergic reactions. For those with allergies, fire ant attacks could potentially be fatal.
There are actually two types of fire ants - native fire ants, and the even more aggressive red imported fire ant (RIFA).
No matter the species, fire ants are not your typical ants, and those struggling with fire ants should always make sure they have a pest control company that can respond fast the moment they even suspect that fire ants may be on your property.
Why Choose Local Professional Fire Ant Exterminator Bug-Man Pest Service?
If you see fire ants, suspect fire ants, or want to make sure that you are fire ant free all year, contact Bug-Man Pest Service - the best fire ant pest control company in the region. We provide support for cities and towns throughout the area, including:
Jacksonville
Orange Park
Middleburg
Fleming Island
Green Cove Springs
Callahan
Hilliard, and More
It is our job to eliminate all of the colonies in your yard and make sure you, your family, and your pets remain protected. We do this by offering better support than you can typically receive with a pest control company. These include:
Guaranteed Fire Ant Removal - Not only can we provide onetime fire ant treatment, but we will guarantee our work for either 6 months or 1 year depending on the contract.
Friendly and Efficient Customer Support - We are immensely experienced in pest control, which makes it possible for us to share our knowledge and offer the best possible service.
Science-Based Fire Ant Treatments - Our fire ant treatments are created by our own entomologists, which means they are based on the newest in scientific advancements.
Our pest control services are also low cost, highly effective, and just the right choice for anyone that has fire ant problems.
Commercial Fire Ant Services in Jacksonville
We are well known for our residential services. But we also work with apartments, office properties, and all other types of commercial properties for ant control, pest control, wildlife removal, and more. If you need to get rid of fire ants, no matter what type of property you manage, make sure you contact experienced pest control company Bug-Man Pest Service today.
Get a Free Quote and Get Rid of Fire Ants Fast
We have many next day and same day appointments available, along with a team of experts that is always ready to answer questions or provide free quotes. We want to make sure your home feels protected. For more information about any of our services, or to get a fire ant inspection and treatment, make sure you call us today at 904-289-7171.