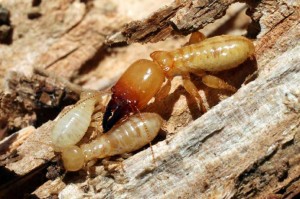 Termites are an insect that can get into your home and cause a lot of damage before you realize it. That is why it is important to have a yearly inspection performed on your home and business. Whether you see the evidence of termites or not, you are in need of home termite control in Jacksonville FL.
Bug-Man Pest Control offers Jacksonville termite control service that will keep your home from damage.
What Kind of Damage Can Termites Do?
Termites are known as wood-eating insects for the most part. However, they do have a diverse diet. You can find them eating a variety of things that contain cellulose such as paper, carpet and cloth.
In the wild, termites can build nests that are several feet in height. Yes, they are industrious insects to say the least. That is what makes them such a threat to your home.
If these insects get into the structure of your home, they can cause severe structural damage. You can be left with major repair bills or worse. If you do not find the damage soon enough, you will have even bigger problems.
That is why you are in need of home termite control in Jacksonville.
Why Should I Have a Yearly Jacksonville FL Termite Inspection?
It is in your best interest as a home owner or business owner to have annual inspections. We will come out to your location once a year and search for signs of live termites, point out any conditions that may be conducive for termite activity, and inspect your home for any signs of termite damage.
We know what we are looking for when it comes to bug activity. Bug-Man Pest Control can stop termites from getting into your house and detect infestations before they become a bigger problem.
Are There Natural Termite Control Options? I'm Worried About the Spray.
Of course, there are natural termite control options that you can try. However, these options are not as effective as the termiticide that we use for home termite control. Do you really want to use natural methods and find out later on that it did not work?
Our Guarantee to Customers
We are a Family Owned and Scientifically Operated business that has been operating for over 40 years. Our company is well known in the community for our effective pest control. We decided a long time ago to be leaders in this business.
If you have questions regarding our Jacksonville FL termite control services, please contact us today at 904-289-7171. We are ready to get you set up with an annual termite contract and bond today.