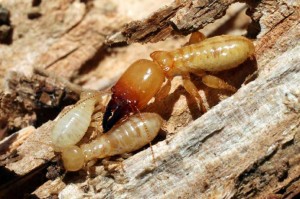 Termites are an emergency. By the time you've discovered termites in or near your property, they will have already cause potentially thousands of dollars in damage, and the longer they're able to eat away at your property the more expensive that damage becomes.
Get rid of termites fast with our Jacksonville termite control services. We have experience with every type of local Florida termite, guarantee our work, and are willing and able to come right away. From termite inspections to termite elimination, call Bug-Man Pest Control today at 904-289-7171 or fill out our form for a free quote.
About Bug-Man Pest Service - Jacksonville, Orange Park, and More
Bug-Man Pest Service is a local, friendly, knowledgeable pest control company located right near you. We specialize in comprehensive and full service pest management. From bedbugs to raccoons to termites, we have some of the most technologically advanced solutions available with many next day and same day appointments to get rid of these pests fast.
Termites are one of our specialties here. We are one of the few companies capable of eliminating every type of termite, including drywood termites, and we're able to do so at some of the most affordable costs available. We also have prevention services as needed, low cost yearly termite inspections, and much more.
We know you have your choice in termite control companies in the Greater Jacksonville area, but we are confident that if you elect to use us for your termites, you'll quickly see why we are the best choice for taking care of your termite infestation.
Types of Termites We Treat and Remove
We are equipped to quickly address any type of termite that may affect properties anywhere in Florida. Different termite species offer their own unique challenges, and we can both inspect your home for these different termite species and make sure that every last one of them is gone.
There are over 21 termite species that affect us here in the Jacksonville, Orange Park, Middleberg, and the surrounding areas. Some of the most common, and most problematic termites include:
Eastern Subterranean Termites
Formosan Subterranean Termites
Asian Subterranean Termites
Florida Drywood Termites
West Indian Drywood Termites
Western Drywood Termites
Florida Dampwood Termites
The difference between most of these termites is our burden to bear. But it does help to know the difference between the different categories of termites, which include:
Subterranean Termites - Subterranean termites are the most common and also most destructive. They live underground (hence "subterranean") and create dirt tunnels that they use to travel to and from your home to feed.
Drywood Termites - Drywood termites do the least amount of damage, but are the hardest to treat. They live inside of wood in the walls, and because they also feed slowly, homeowners can go for years without realizing they have termites. Although they tend to do less damage, especially if caught early, they also require a more extensive treatment.
Dampwood Termites - Dampwood termites are very rare in Jacksonville, but they are found in South Florida and because of the way the weather has been changing, there is an increased risk of finding them up in north. They prefer damp and decaying wood, which makes them less of a threat for most homes. But when they do invade, they can quickly become problematic.
The most aggressive termite species is the Formosan termite, a type of subterranean termite. This type of termite species feeds extremely quickly, and can also create very large colonies in a short amount of time. Still, any termite species, no matter how fast or slow it feeds, represents an emergency for your home. It's why we are always available to respond fast to your termite invasion.
Termite Treatments in Jacksonville at Bug-Man Pest Service
There are many ways to treat termites. The choice for termite control depends on the species of termite and the degree of the invasion. Some of the methods that we can use to eliminate termites includes:
Physical barriers that prevent termites from reaching your property.
Termiticides in wood, baits, and soil.
Fumigation, covering the entire home/property in an airtight cover.
These are only a few of the types of effective termite control methods that we may use to eliminate termites throughout your property.
Free Termite Inspections in Jacksonville
If it is your first time with us and you suspect a termite infestation, we are happy to provide a free inspection. We also know that waiting until you suspect termites is often not ideal. Termites are common here in Florida, and most homes are at risk for termite invasions.
That makes it even more important to get yearly inspections, even if you haven't seen any signs of termites. We provide yearly termite inspection contracts throughout Jacksonville and the surrounding cities, so you can feel confident that your property is termite free or get immediate help if you
Commercial Termite Control
We are well known for our residential services, but we also provide commercial termite control as well. We can treat termites - and other pests - in buildings of all sizes, with a variety of tools and techniques at our disposal to make sure that your termite problem is completely eliminated.
Family Owned and Operated - Call Bug-Man Pest Service Today
We're not just a local termite control company. We're a family that has been a part of this city and this community for decades. We care about each and every one of our customers, and treat you like you're more than another home.
Let's protect your property and make sure that you're getting the termite control treatments you need. Give us a call today to learn more.