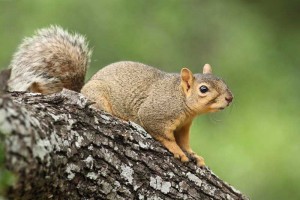 Most of the time, squirrels will not bother you or your family. Businesses rarely find squirrels a concern, and some universities even act as though their squirrels are different from other squirrels - a cute mascot for the school. Outdoors, squirrels are often harmless.
But, like most forms of wildlife, squirrels often seek out places that provide safe shelter. Here in Jacksonville, it's not uncommon to find that squirrels have moved into your property, and when that happens, they can become dangerous. Bug-Man Pest Control can help you get rid of squirrels, and provide the Jacksonville squirrel removal services you need to keep your family safe.
Schedule an appointment by filling out our form to the right or by calling 904-289-7171 right away. We'll remove any squirrels we find on your property and prevent them from coming back with our humane squirrel control services.
Squirrels: The Forgotten Rodent Pest
Most people know that rats, mice, and other rodents can be vectors of disease that may spread illness and cause damage to your property. But squirrels can be even more destructive. Their nimble hands and climbing ability means that they can frequently be found in attics across the city, making nests and causing serious damage to the interior of your home.
Squirrels often use insultation for nesting, leading to energy loss. They also chew through wires, causing fire hazards (when squirrels see wires they mistake them as branches of trees). Their feces, just like other rodents, can carry many diseases including salmonella. And while outside, squirrels are generally harmless to humans, inside of the home they may fiercely defend their property and do anything they can to come back.
There's a reason it's so important to remove squirrels. Once on your property, there are very few ways to get them to leave without a professional wildlife control company.
Humane Squirrel Removal - How to Get Rid of Squirrels
"I was looking for a pest control company near me to handle my squirrel problem, and I was so happy with Bug-Man Pest Service. Professional, friendly, and fast." ~Jacksonville Resident
Like many people, we love animals. The goal of our animal control services is to find a way to remove squirrels unharmed and humanely, so that they can continue to benefit the environment without harming your property.
The way to get rid of these animals while limiting harm is to use a combination of the following Jacksonville squirrel removal techniques:
Live Trapping - Unlike rats, and some other rodents, we do our best to remove squirrels safely and unharmed unless otherwise impossible. That involves live trapping any squirrels still on the property and removing any young safely to a new location.
Sealing Openings - We then seal any potential openings using professional supplies that are resistant to bites and chewing. Any rodents outside of the property will be unable to return, and will eventually find a new place to live.
Cleanup and Dead Animal Removal - Squirrels leave behind a mess. The longer squirrels live on the property, the more likely they may also die there. We can clean up and disinfect the area so that it was like the squirrels were never there.
We also remove nests with young and relocate them as well, so that baby squirrels also remain unharmed. We offer commercial squirrel removal as well.
Our Jacksonville, FL squirrel control and removal techniques and services are all aimed at delivering the best possible results while keeping you as safe as possible from wildlife.
Why Choose Bug-Man Pest Service?
Bug-Man Pest Service is a family owned business, with nearly 50 years in the pest control world. We're also scientifically focused, with an entomologist on hand that plans all of our pest control services, along with a team that integrates the newest and most effective strategies for delivering results.
We guarantee that our professional squirrel removal service will be effective, and if for any reason squirrels come back, we'll be there as well to finish the job. Most of the time we can offer same day and next day service, and we are available 24 hours if there is a squirrel related emergency.
We're affordable, fast, and the best choice for your home or office. Learn more or get a free quote by calling Bug-Man Pest Service today at 904-289-7171.