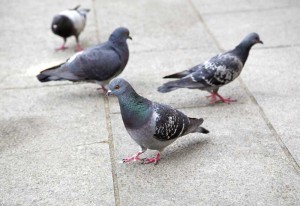 One of the most common animals in Florida can sometimes be the most harmful. Jacksonville is home to many bird species. Most of the time, we do not even think about how often they're all around us, and the amazing role they play in the environment.
But birds, like other types of wildlife, cause major problems when they come into contact with humans - especially when they invade your property. At Bug-Man Pest Service, we provide bird control in Jacksonville that is humane, effective, and long lasting. Learn more by calling us right away at 904-289-7171.
Get Rid of Birds Fast - Our Wildlife Control Service
Bug-Man Pest Service has a variety of services to get rid of birds in Jacksonville, Orange Park, Middleburg, and many of the surrounding cities and towns. We focus on humane bird removal, and can adjust our services based on the needs of your property. Our services include:
Bird Deterrents - Popular with our commercial clients, deterrents are products (such as spikes) that are strategically placed throughout your property so prevent birds that are settling nearby. They're useful when the bird problem is primarily outdoors, and provide a solution that doesn't harm birds but keeps them from settling on your property.
Bird Exclusion - When birds are living inside of your property or frequently finding their way into a hole in the attic or wall, exclusion is the method of choice. We seal up any entrance points so that birds cannot get inside, forcing them to relocate themselves elsewhere.
Bird Relocation - When there is a nest on your property that you want removed, we will try our best to humanely relocate it and leave any and all of the birds and chicks unharmed. Relocation can be challenging, but we'll be as gentle as possible to help find birds a new home.
Dead Bird Removal - Dead birds may carry diseases and can lead to smells or destruction of property. If birds have died in or on your property, it's best to let the experts of Bug-Man Pest Service remove them safely and carefully.
Clean Up Services - Bird droppings, nests, and other waste has the potential to carry diseases and bacteria. It is best to leave these to the hands of experts. After bird removal, we can assist it bird cleanup, so that your property is safe for people and pets again.
Emergency Bird Trapping and Removal - Some bird issues are emergencies. Birds that have entered your property and refuse to get out, or are unable to find their way through a door/window, can sometimes require bird trapping by trained professionals.
We're here for whatever your bird removal needs may be. If you're in Jacksonville, Orange Park, Middleburg, and more, Bug-Man Pest Service is the top choice to call to get rid of birds fast.
Types of Birds for Our Bird Control Services
We support properties struggling with any type of bird invasion, including rare birds not typically seen around the cities. But the most common services we provide include:
Pigeon Control
Crow Control
Woodpecker Control
Starling Control
Sparrow Control and More
Everything from owls to seagulls to cardinals, if you're having a problem with birds on your property, we'll find a way to safely remove them and keep your home clean and disease free. If you're ready to get started, make sure you call us today at 904-289-7171.
Why Are Birds a Problem?
Birds create several problems both on and near your property. Commercial properties also may have additional issues that are less common than residential properties. Some of the issues include:
Feces and Disease - The feces from birds, especially pigeons, can carry a variety of bacteria and diseases that represent serious challenges to the health of residents or employees. They also make an unattractive mess, and are often left in group during invasions.
Nests - Nests can be messy and bring similar health challenges. Not all nests are serious problems, but they can cause upsetting noises, bring pests, and possibly block pipes or cause property destruction.
Mites and Bacteria - Many birds are at risk of carrying bird mites and bacteria, which can lead to diseases, bites, and allergies. Bird mite bites are also known to be very itchy, especially for those with sensitive skin.
Noise - Some birds make loud noises that are disruptive to work, shopping, or sleep. Hotels with birds can often receive sound complaints, and homeowners with too many birds nesting near their property may hear them at most hours of the day.
Aggression - Some birds are territorial and aggressive, especially if they have eggs in their nests. If these birds are near where people congregate, they can cause severe problems.
These are only some of the issues with birds, and why bird control and deterrents are so important. If you have trouble with birds on your property, contact our team today.