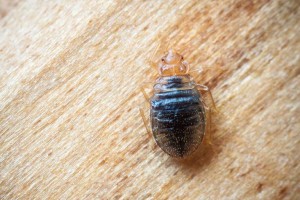 Bed bugs are always an emergency. Here at Bug-Man Pest Service, our bed bug control team is ready to eliminate these biting pests fast. We use only the most technologically advanced bed bug treatment techniques, and guarantee our work or we'll come back and finish the job.
With many same day and next day services available, Bug-Man Pest Service is ready to eliminate bed bugs on both residential and commercial properties throughout Jacksonville, Middleburg, Orange Park, and more. Call us today at 904-289-7171 for a free quote, or schedule an appointment using our contact form.
About Our Jacksonville Bedbug Control Service
Bug-Man is one of the fastest growing, full service pest control companies in Jacksonville, FL. Yet we continue to operate based on our small and local business roots, providing:
Friendly and knowledgeable customer service.
Detail oriented bed bug removal that takes its time to get through each property.
Frequent training of new techniques and methodologies.
We want to build relationships with each of our customers, providing not only bed bug control, but also seasonal pest control, wildlife removal, and more.
We also go a step further, offering state of the art bed bug control and extermination solutions that are proven effective at eliminating these resistant pests. We have several strategies available so that we can choose an approach based on your property type, the degree of infestation, and where the bed bugs may be able to hide.
There are many commercial and residential bed bug companies in Northern Florida. We will prove to you with every treatment why we are the top local choice for bed bug control near you.
Our Bed Bug Extermination Techniques and Services
Customer service is our specialty. But while we have friendly and knowledgeable technicians, support that can come right away, and guaranteed work, great customer service also means doing a great job on your property.
That's why we also offer the latest and most effective bed bug control techniques. Our treatments offer the newest and best solutions to get rid of bed bugs fast, with the latest solutions to make sure bed bugs are completely removed. We offer:
Cryonite - This "cold" bedbug treatment is one of the newest and most exciting. It freezes bed bugs to temperatures below their survival level, eliminating both bed bugs and their eggs.
Heat Treatment - Very popular with commercial properties (and often used in homes and apartments), heat treatments heat up bed bug locations above their tolerance level. Both of these treatments are chemical free and very effective.
Pesticides - Pesticides have evolved considerably over the past several decades, and are safe for both people and pests. We use only the newest, and are as thorough as possible to ensure that all of your bed bugs are gone.
K9 Bed bug Dogs - We also have bed bug sniffing dogs in Jacksonville, capable of finding even the toughest hiding spots if our technicians are struggling to locate the infestation.
Bed bugs are not only excellent hiders. They are also growing resistant to some types of treatment. That's why it's so important to have options, so that we can make sure that your Jacksonville property is well protected. For more information about any of our bed bug control services, or for a quote, make sure you contact us today at 904-289-7171.
What Are Bedbugs?
Bed bugs are a type of parasitic biting pest that feed almost exclusively on human blood. They are called "bed bugs" because they prefer to live near beds. They have the ability to sense when a person is sleeping, allowing them to feed at night in secret and then scurry away before the person wakes up.
Their bites are very itchy. They also can breed quickly, leading to more and more bites over time. They are some of the best "hiders" in the animal kingdom, as they can sense danger and hide in spaces so small they are nearly invisible to the naked eye.
What Do Bed Bug Bites Look Like?
Bed bug bites are not unlike most types of bug bites. They cause small, itchy bumps that can be a bit bigger for those that are allergic. The bites are caused by the naturally occurring anesthetic that is found on a bed bug's mouth, that allows them to bite without the person feeling it.
The bites do not typically look any different from other types of biting pests, like mosquitoes. But there are tells that can help you figure out if you have bed bugs. These include:
"Breakfast, Lunch, and Dinner" - Bed bugs do not typically bite just once, the way that mosquitoes do. They often bite multiple times in close to a straight line, something that professional bed bug technicians call "breakfast, lunch, and dinner."
Nighttime Bites - Mosquito bites can come at any time of day. But bed bug bites *almost* exclusively come at night. Very hungry bed bugs may bite during the day, or bite a person while awake (especially in commercial properties) but most of the time, bed bugs will bite while you're asleep and you'll see the bumps the next morning.
May have Smaller Raised Bump - Everyone reacts to bites differently, so it may not be possible to see a difference between pest bites. But bed bugs typically have a smaller raised center, compared to hives and mosquitoes which may have a larger raised area.
Though there are ways to tell if you have bed bugs from the bites alone, what we usually look for is bites that correspond with other signs.
Additional Signs of Bed Bugs
There are also often other signs of bed bugs that you can look for to see if you likely have an infestation. These include:
"Blood Poop" on sheets or pillows.
Discarded bed bug skins.
Dark "dirt" spots on your walls, baseboards, or sheets.
Musty smell, typical in larger infestations.
Bed bugs do not always hide on beds, so you may have to look around to see where they could be present. We offer free inspections from our trained bedbug specialists, since it is possible for smaller infestations to be missed by the untrained eye.
Are Bed Bugs Dangerous?
Nobody wants bed bugs. They are notoriously hard to eliminate, and cause considerable amount of distress in the home. The only good news about bed bugs is that they are not generally dangerous. Bed bugs do not spread disease, and those with bed bugs often have no more than an irritating itch.
But bed bugs often do represent an emergency. For businesses, especially hotels, bed bugs represent a significant liability. For homeowners, they can cause issues that include:
Poor sleep, from worrying about bed bug bites.
Stress and anxiety in your home.
Secondary infections if the person scratches their severe itching, which could be dangerous in some populations.
So while you're usually not in any severe danger, there are multiple reasons to call a pest control company that can respond fast and eliminate infestations quickly.
Why Does Jacksonville Have So Many Bed Bugs?
Every city, every town, every house - every property, even those that have nothing to do with beds or sleeping, is at risk for bed bugs. They are skilled travelers and are not limited to beds. It's why bed bugs are found in not only places like Middleburg, Orange Park, Fleming Island, and Green Cove Springs but also places like Hilliard and Callahan - further outside the big city.
But there are certain cities, like Jacksonville, that do seem especially prone to these invasions. That is because Jacksonville and the surrounding area has many qualities that are more conducive for bed bug invasions. These include:
Frequent Visitors - Bed bugs spread through travel. They hitchhike to new locations. The more people that come in and out of the city, the more bed bugs will spread. In a place like Jacksonville with tourists, sports teams, and new visitors, that risk is even greater.
Presence of Mosquitoes and Other Biting Pests - The worse a bed bug infestation is, the more it can spread. It's why a fast treatment is so important. But areas that have a lot of mosquitoes, spiders, and other biting pests - like Jacksonville - can cause bed bug infestations to be overlooked. The bites may be confused with mosquito and spider bites, which may mean they aren't found as quickly, which lets the infestation grow.
Population Density - Jacksonville's large population also makes it easier for bed bugs to spread. Bed bugs do, on occasion, leave their home to walk to a new location. If there are many properties in close proximity, like in the center of Jacksonville, it's easier for them to find a new home before they're captured by predators.
There is a reason that big cities across the country are more prone to bed bugs. Because Jacksonville is a big city that is also a popular tourist location, the risk is even greater.
Commercial Bed Bug Removal from Bug Man
One of the myths about bed bugs is that they require beds. While homes and hotels are the most common places to find bed bugs, they can infest any type of property, including:
Movie Theaters
Clothing Stores
Office Complexes
You can even find them in grocery stores, antique malls, and so much more. Bed bugs do not care about cleanliness, nor do they require a person to sleep in order to feed. It's why it is often so important for businesses to choose a company that offers commercial bed bug control that can respond fast, and eliminate bed bugs in a discreet way.
Schedule a Quote and Appointment - Call Bug Man Pest Service, Today
Nobody expects to have bedbugs. But if you find them, it's important that you address them as fast as you can. Bug Man Pest Service has developed a reputation as the best bed bug control company in Jacksonville and the surrounding area, and we back up our work with the best warranty around! Give us a call today, or fill out our form for a free inspection.