[mp_row] [mp_span col="12"]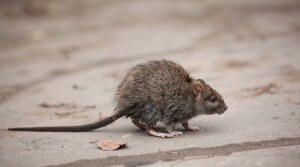 Rodents are a problem throughout Jacksonville. Our warm weather and moisture environment gives them the perfect breeding ground to grow and thrive. And while these rodents play an important role in the environment, all too often they look to residential and commercial properties to find food or shelter, causing health concerns, property damage, and more.
Bug-Man Pest Service, the best rodent control company in Jacksonville, is ready to help remove, deter, or exterminate mice, rats, squirrels, gophers, and other rodents whenever you need us. Learn more or get a free quote by calling us at 904-289-7171.
Get Rid of Rodents with Bug-Man Pest Service
Bug-Man Pest Service is a comprehensive pest control company that specializes in rodent control and removal. We have decades of experience and generations of satisfied customers that will vouch for our ability to find creative and effective solutions to get rid of rodents fast. These include:
We also are available to assist with other forms of wildlife, such as rabbits, birds, and bats. But rodents make up a significant amount of our work, because of how often they cause problems for homeowners and businesses throughout Jacksonville.
We use several techniques to help with rodent control, including:
Rodent Prevention and Exclusion - We'll explore your property and look for any potential entrance points or areas that might attract rodents. When we find them, we'll seal them up completely so that rats, mice, and other rodents cannot enter your home.
Rodent Trapping and Extermination - We always try to use humane methods whenever possible. Our traps and devices are designed to either help us remove the animals, or provide a painless extermination to help keep them away.
Cleanup and Dead Animal Removal - We are also available to assist with dead animal removal, and if you need clean up services, we can provide that as well. Our goal is to give you back control of your property so that you can sleep or work comfortably again.
Our rodent control services are also guaranteed. If for any reason you find more rodents on your property, we'll be there right away.
Commercial Rodent Control
Rats, mice, squirrels, and other rodents are a health issue. Businesses, especially those that serve food or have close contact with humans, need to make sure their properties are completely pest free. We have 24 hour emergency rodent control when needed, and also provide scheduled services that are affordable as a business expense.
Lawn Rodents - Moles and Gophers
Moles and gophers are lawn rodents. They destroy landscapes and dig up holes that can cause both aesthetic and functional issues with your lawn. Severe rodent problems can also lead to injury, due to accidentally setting foot in a sink hole created by their burrowing. Our mole and gopher support will make sure that you have your lawn back, and that these rodents will no longer be digging through your property.
Keep Your Family Safe with Our Comprehensive Rodent Control Services
Bug-Man Pest Service is a family owned and operated pest control company. We serve not only Jacksonville, but also Middleburg, Orange Park, and many of the surrounding cities and towns. We've been here for over 50 years, and continue to be the best choice for all of your pest control needs - including rodent control and rodent treatments.
If you are ready to remove rodents fast, let Bug-Man Pest Service be there to help. Contact us today via our form at the right, or by calling 904-289-7171.
FAQs About Rodent Control
Q: When is rodent control an emergency?
A: Most rodent problems can be dealt with via our scheduled services. But in some cases, you may need rodent control right away. If you operate a business and find rats on your property, that can be a health issue that requires immediate support. If you're a home owner and a squirrel is trapped somewhere in your property, it helps to have a company you can call right away.
Mice, rats, and even squirrels can also be carriers of disease, so if you're face to face with one it may be a good idea to call us right away. We do have 24 hour emergency services available in select cases.
Q: What are some signs of a rodent invasion?
A: Different rodents have different sizes. For rats and mice, the presence of droppings and sounds in the wall (especially at night) are the most common signs. For moles and gophers, unexplained mounds of dirt on your property along with loose soil that caves when stepped on can also be signs. If you're not sure, we are happy to provide free inspections for most common rodent challenges.
Q: Will the animals be harmed?
A: Every animal is treated on a case by case basis. We strongly believe in humane pest removal, and our exclusion services are one of the ways that we can keep pests outdoors so that they can thrive out in nature. But some pests may not be able to be removed or kept outdoors. In those cases, the extermination techniques we used are designed for fast and quick ends so that there is minimal suffering.
[/mp_span] [/mp_row]