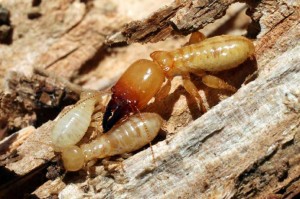 Your property is your largest investment. Termite damage instantly ruins the return on that investment. In Jacksonville, Orange Park, and many of the surrounding areas, we're faced with termites that are even more problematic than the rest of the country: termites capable of hiding without detection and termites that are able to eat wood aggressively.
It's why it is so important to have annual termite inspections. More than any other state in the country, Florida has termites that are difficult to spot without years of experience, as well as termites that feed so quickly that missed signs may mean thousands of dollars in damage. Schedule a termite inspection today by calling us at 904-289-7171.
About Bug-Man Pest Service
Bug-Man Pest Service is a full service pest and termite control company that provides fast, thorough, and affordable termite inspections and extermination. We use state of the art tactics that allow us to completely eliminate these wood eating insects, and have a highly experienced team that you can trust for your termite control needs.
As a family owned business, we are local to the Jacksonville area, and serve most cities and towns within driving distance, including:
Jacksonville
Middleburg
Orange Park
Fleming Island
Green Cove Springs
Callahan
Hilliard
We also take our time when we're on your property, so that you can feel confident that our termite inspections will discover any termites that may be living near or feeding on your property. We encourage you to contact us to find out more about our affordable annual termite inspection contracts, as well as our termite control service if we find any signs of termites near your property.
How to Tell if You Have Termites
One of the reasons that termite inspections are so important is because it can be difficult to spot termites on your own. Some termites, like eastern subterranean termites, do leave signs that you may be able to find if you search for your property carefully. But others, like drywood termites, can be almost impossible to see if you do not know where to look.
However, if you want to do a brief inspection yourself, pay attention to the following signs:
Discarded wings around your property.
Dirt tunnels that lead up to your house or to wood.
"Frass," which are termite droppings that look like sawdust.
Holes, discoloration, or sinking drywall.
Hollow wood in areas that should not be hollow.
Unexplained lines in wood boards.
Ratting sounds after knocking on a wall (caused by termite soldiers banging their heads on the tunnel).
These are only a few of the signs of termites, but they tend to be the easiest for homeowners to spot. Keep in mind that many of these signs are small, and may not be easily found by the naked eye.
Types of Termites in Jacksonville
During our termite inspections, we will look for different types of termites, each with their own signs and damage. With over 20 species of termite, there are many different signs to look for. We will pay particularly close attention for the following termites:
Asian Subterranean Termites
Eastern Subterranean Termites
Florida Dampwood Termites
Florida Drywood Termites
Formosan Subterranean Termites
West Indian Drywood Termites
Western Drywood Termites
Drywood termites cause the least amount of damage but can be the most difficult and expensive to find and treat. Subterranean termites, particularly Formosan termites, are more visible when they invade but also cause a significant amount of damage very quickly as they feed their colonies, some of which have more than 2 million termites.
Why Annual Termite Inspections from Bug-Man Pest Service Are So Important
When you look at the Jacksonville housing market, you can see that it continues to improve rapidly. Homes on the market are consistently gaining value as this area becomes an even more desirable place to live.
Yet termites can affect that substantially. Even a small colony can do hundreds, potentially thousands of dollars in damage in a short amount of time. Preventing that damage with an affordable annual inspection is a great way to both avoid costly damage to your property and also avoid a more costly treatment program by making it possible to eliminate termites before their colony has grown.
Schedule Your Inspection Today with Bug-Man Pest Service
No one wants to think about termites. But when you live somewhere like Jacksonville, with its high risk for termite invasions, it's not enough to wait and hope that you are termite free. Regular, annual inspections from a trained termite specialist - one that offers professional service, expert treatment techniques, and the ability to get rid of termites fast before they cause excess damage.
Learn more or schedule your appointment by calling us at 904-289-7171 or filling out our contact form.